Massive Sea Star Die-Off Along Entire Western US Coast
What is Happening & How Can You Help?
The epidemic was first observed in Washington along the Olympic Peninsula...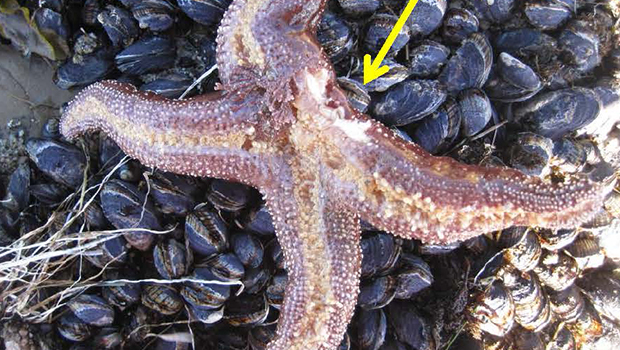 Nearly a year ago it was noticed by divers and scientists that sea stars were dying off in massive numbers along the Olympic Peninsula in Washington. Not long after there were reports of these alarming deaths all the way down to Southern California and upwards to Alaska. Proactive measures have been taken, but the outlook is grim. As you will see from the video below, this disease is literally forcing the sea stars to dismember themselves, resulting in death within 24 hours. This is a phenomenon that affects all of us, because it is an alarming indication that our oceans that we rely on for survival are being hugely affected. This could potentially be a "canary in the coal mine" that we cannot ignore. The good news is there are ways we can help make a difference if we're willing to share our time and knowledge with scientists.
Poseidon Diving Systems would like to join together with divers along the West Coast to encourage proactive diving and collecting samples of the expired sea stars to share with scientists searching for a solution, and to help stop the spread of this disease to other coastal areas that are currently not affected. Non-divers can help as well by collecting samples along the shoreline. This will help scientists track the spread of the disease in real time which will help them to potentially get ahead of it before it's too late. There has been a website set up that allows anyone who is walking along the shoreline, tidepooling, or diving to take a picture of any sea star and post it on social media linked with #SickStarfish. The scientists will be able to geotag the location and can observe the state of the sea star to get a better idea of how the disease is progressing in specific areas in real time. Please also share your findings with us on the Dive Poseidon Facebook Page (photos, observations, actions using the tag #SickStarfish) so that we can help build a community that can make a difference.
Here is a link to the in-depth article related to this video and the science behind what is happening. It details what is being done and what can still be done by citizens who care.
Are we on the brink of sea star extinction along the US West Coast?
The epidemic spread so quickly, scientists scrambled to figure out a cause and most importantly a solution to save the remaining sea stars. Time has not been on our side and in many places, including Malibu, California, there are literally no sea stars left.
More about what this epidemic is all about and what can be done to help, from UC Davis One Health Institute:
So what's the latest news on this? Scientists believe they've found the cause of the Sea Star Wasting Syndrome
At this point scientists are postulating that the sea star wasting syndrome may have been caused by our warming oceans. Click Here to read an updated report from Wednesday, June 25th about their findings. We will provide updates to this on the Dive Poseidon Facebook Page, so please visit us frequently and share your updates with us as well. Thank you for caring!